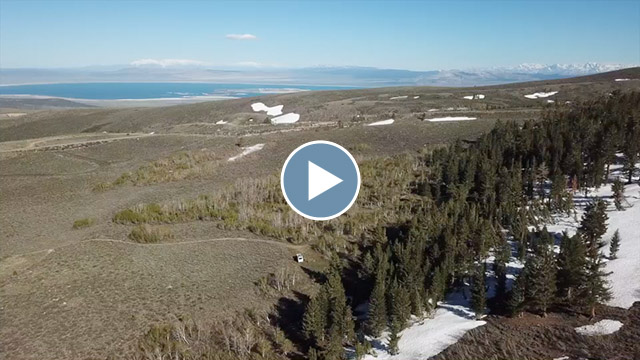 This little road trip to the Eastern Sierra got off to a rough start as I experienced a breakdown in the Traveling Cat Adventure Vehicle far from any service help.  I was on US-395 just past the intersection with CA-108 (still closed from snow on Sonora Pass) when I suddenly felt multiple and ongoing jerking motions from the transmission as it seemingly tried to jump between gears.  I was luckily right in front of a pullout (which are few and far between) and was able to pull off the highway and try to figure out what was going on.  I ended up waiting about four hours as Mercedes roadside service tried to find a tow service before I found I could get the vehicle moving and head back towards Gardnerville and eventually Reno to get the vehicle looked at the next day.  (For more play by play on what happened, see this thread in the Sprinter-Source forum.)  Anyway, after losing a couple of days to dealing with that and then another day back at the Tahoe house fixing the RV's refrigerator (which had also started acting up), I eventually headed out again.
I was going to meet up with Hoan and his family in Mammoth Lakes but they ended up bailing out and so I spent a few days in and around the Mono Lake basin.  The first night was a little off road on the way up to Virginia Lakes after discovering the dirt roads any higher were still blocked with snow.  Still it was looking to be a lovely high altitude spot for star gazing with my telescope – until after setting everything up I realized I had forgot to pack my counterweight – making it mostly unusable.  D'oh!  Still it was a nice spot to fly the drone around a bit with Mono Lake visible in the distance.  And Pan caught himself a mouse. ;-)
The following day I dropped down into the Mono Basin and went off roading a bit to get near the Mono Craters to go exploring on foot and in the air.  (I wasn't going to try take the Traveling Cat Adventure Vehicle up the slopes of the craters!)  My cross-country hike turned out to be much more difficult than expected as it was really tough just getting up a step or two without slipping back on  the steep scree slopes.  But my, such a lovely and fascinating view over the top by flying the drone!
The last day involved some more exploring and flying near Grant Lake – and I found myself pushing the vehicle climbing on some just barely passable rough dirt roads.  Once again, I'm really looking forward to downsizing to a much smaller and more capable off-road van.  After getting out of there without mishap, the return trip involved backtracking north on 395 to highway 88, Monitor Pass and Markleeville.  Tioga Pass was still closed and Sonora Pass and Ebetts Pass would be a really bad idea for a 25 ft. RV!  Carson Pass was lovely and snow capped all over on the way back though.