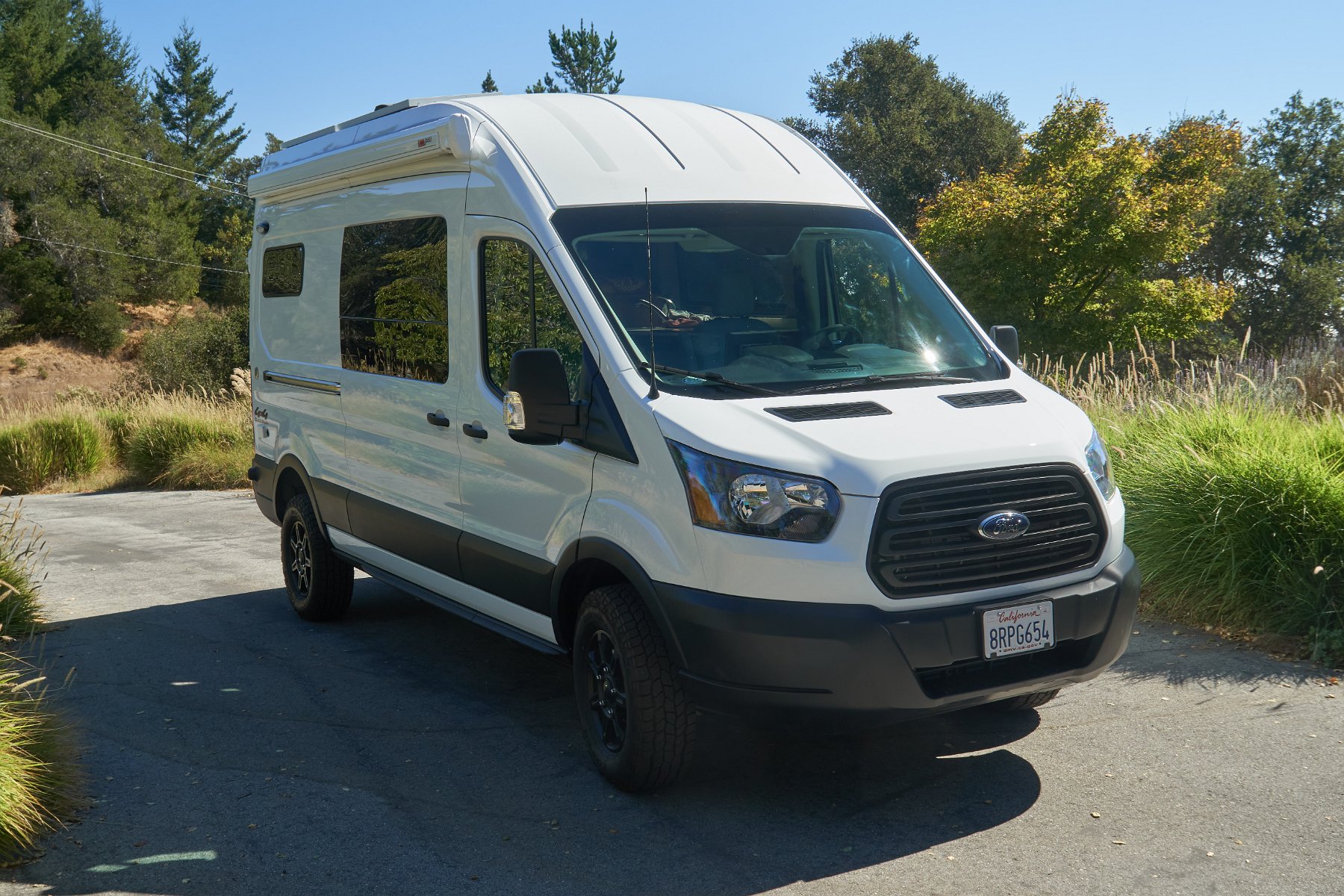 It's not only more-or-less complete, but it's in the driveway!  I'm tweaking things and making some additions but after about 15 months from initial contact to finish we finally got to pick it up from Van Haus Conversions in Vancouver, WA in mid-September, amidst the smoke and fires across the western states.
This previously empty Ford Transit cargo van is now officially a nimble little 4×4 adventure campervan, (or disaster bug-out van, or zombie apocalypse survival unit) or… The New Traveling Cat Adventure Vehicle.  It's quite the change from the original Traveling Cat Adventure Vehicle which was a 25-ft Sprinter-based Class B RV from Leisure Travel Vans. We had a good time with the LTV Unity, but our two biggest wishes were to 1) have internal storage for our mountain bikes and 2) downsize to a smaller, more off-road-capable camper van, which would also allow us to park more easily in busy metro areas.  We did take the Unity out on dirt roads a lot but we were often of course constrained on just how rugged the road could actually get with a vehicle of that size and length.  Anyway, here it is – wishes made true — and it looks great: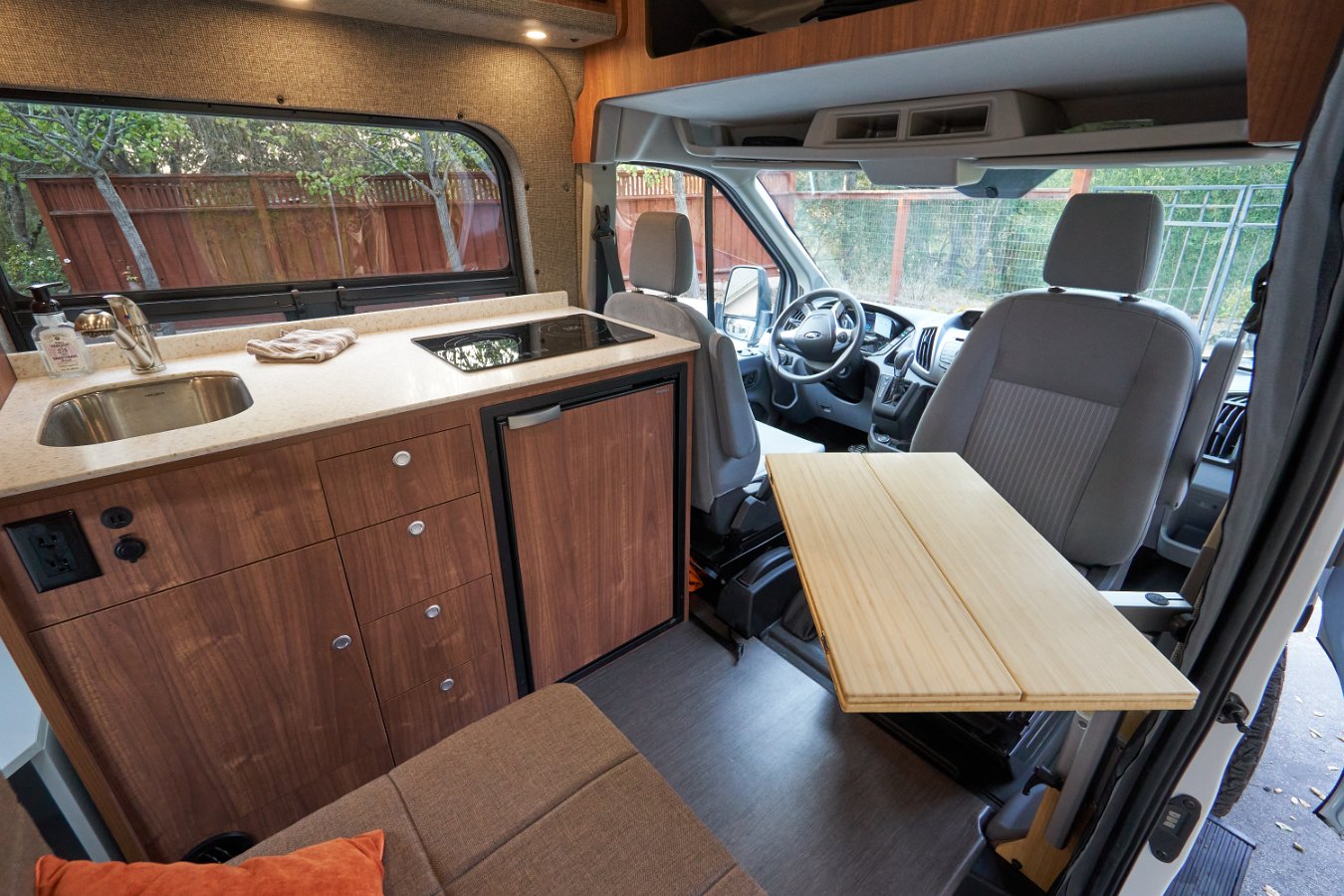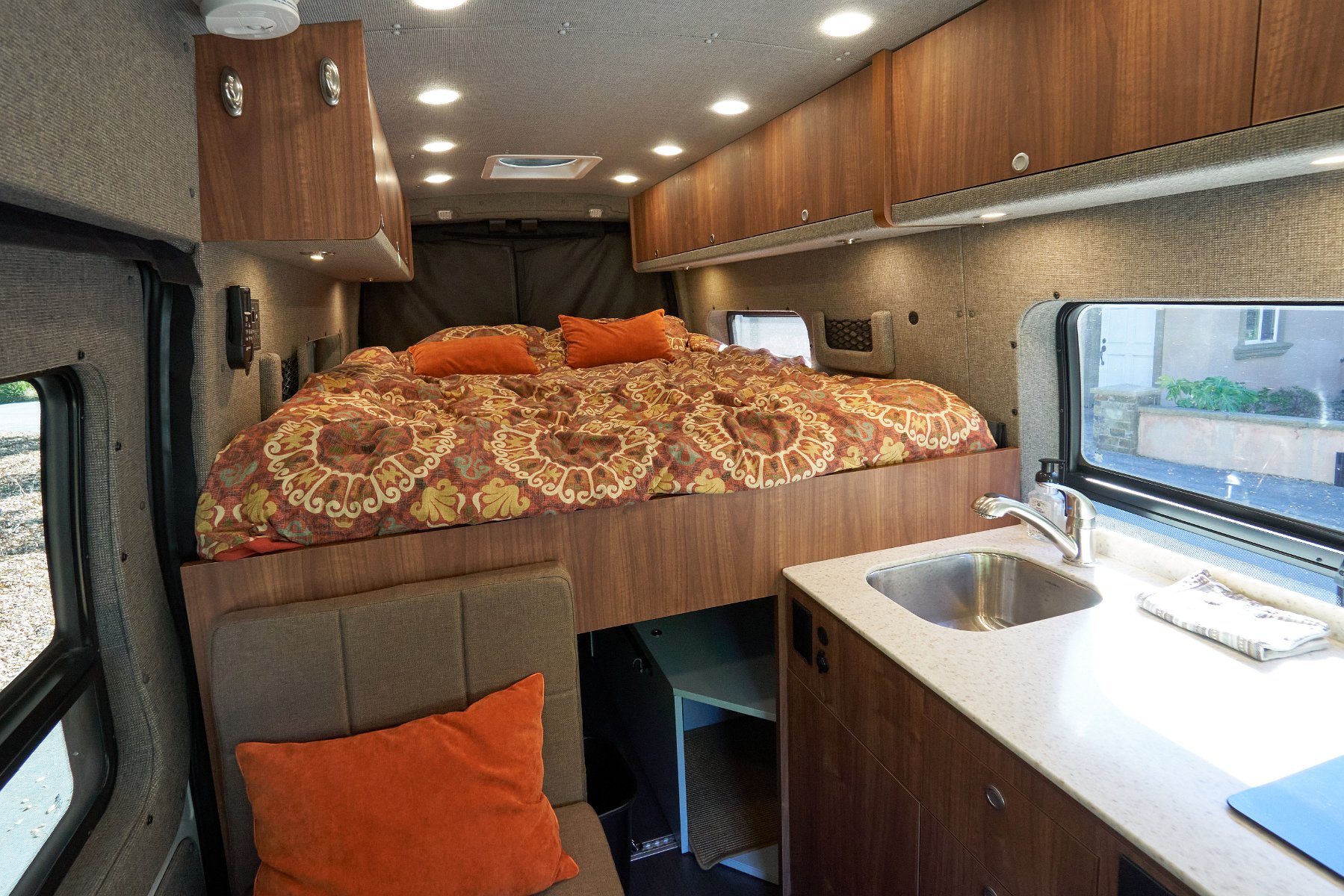 The new campervan is built on a 2019 Ford Transit cargo van (Long Body, High Roof, 148″ wheelbase, non-extended, 19.5 feet long).
QuadVan in Portland, Oregon did the conversion to support 4×4 as well as upgrade the suspension, add a locking differential and protective skid plates, raise the low-hanging rear shock mounts and the overall body and add all terrain tires.
Van Haus Conversions did the build out to a campervan.  (Here's some pictures of the work in progress.)  The design features a queen-sized raised-platform bed that creates a large "garage" space for bikes and gear underneath.  The living area centers around the galley with a sink, refrigerator, double burner induction cooktop and a fold-out swiveling table between the two front swiveling seats and a small bench seat that hides a dry composting toilet.
I've set up a separate page (Transit Van Conversion – Tips and Details) where I'm documenting various build details and decisions, where to buy stuff and all the additional customizations I make along the way, like I did for our LTV Unity.
Click through for a full gallery of the completed build – I'll continue to update the gallery as I make changes to the van: