Tag Archives:
canoeing

Darlene and I dropped in to see the Polynesian Festival and Outrigger Races at the Santa Cruz Wharf on Sunday morning.  Apparently anyone can sign up as teams in advance and compete in the races.  We also stopped into the free Monterey Bay Marine Sanctuary Visitor Center.  It's a small center with some nice exhibits and videos, including a tank where you can drive around a remote-operated submersible.
Click through for a gallery of pictures from a visit with Darlene's family in Wisconsin/Minnesota earlier this month, including some hiking, canoeing, riding some fat tire bikes for the first time, visiting the Santa Maria and Pinta replicas that happened to be docked on the Mississippi while we were in Winona and recording our successful cracking of another "escape room", this time in LaCrosse:
This is a collection of images from a trip in March 2002 booked through REI Adventures and provided by SlickRock Adventures. It was a week of caving, rafting, canoeing, jungle hiking, sea kayaking, surf kayaking, snorkeling, diving, windsurfing, … oh, you get the idea.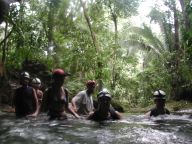 Jungle hiking (and a bit of four-wheeling) to reach Actun Tunichil Muknal – otherwise known as the Cave of the Crystal Sepulchre.
Watch your step — those are real Mayan artifacts!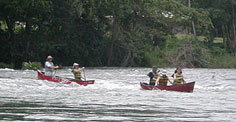 Two nights at Casa Maya, a guided tour of the ruins of Xunantunich, and some "mostly gentle" canoeing down the Mopan River.
Nice day to capsize!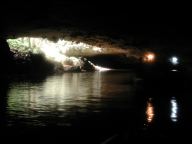 Helmets and headlamps for caving via rafts on the Caves Branch River.  And overnight nestled in Ian Anderson's Jungle Lodge.
Sweet!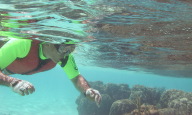 Four days of sea and sun on Long Caye at Glover's Reef.  Sea kayaking, surf kayaking, snorkeling, diving, windsurfing, oh, and hammock surfing.
Rough life!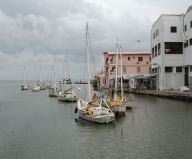 Miscellaneous Excursions: Downtown in Belize City and out to the Belize Zoo, visiting the ruins of Altun Ha, and demonstrating our primate origins at the Community Baboon Sanctuary.
Who's the true primate?!