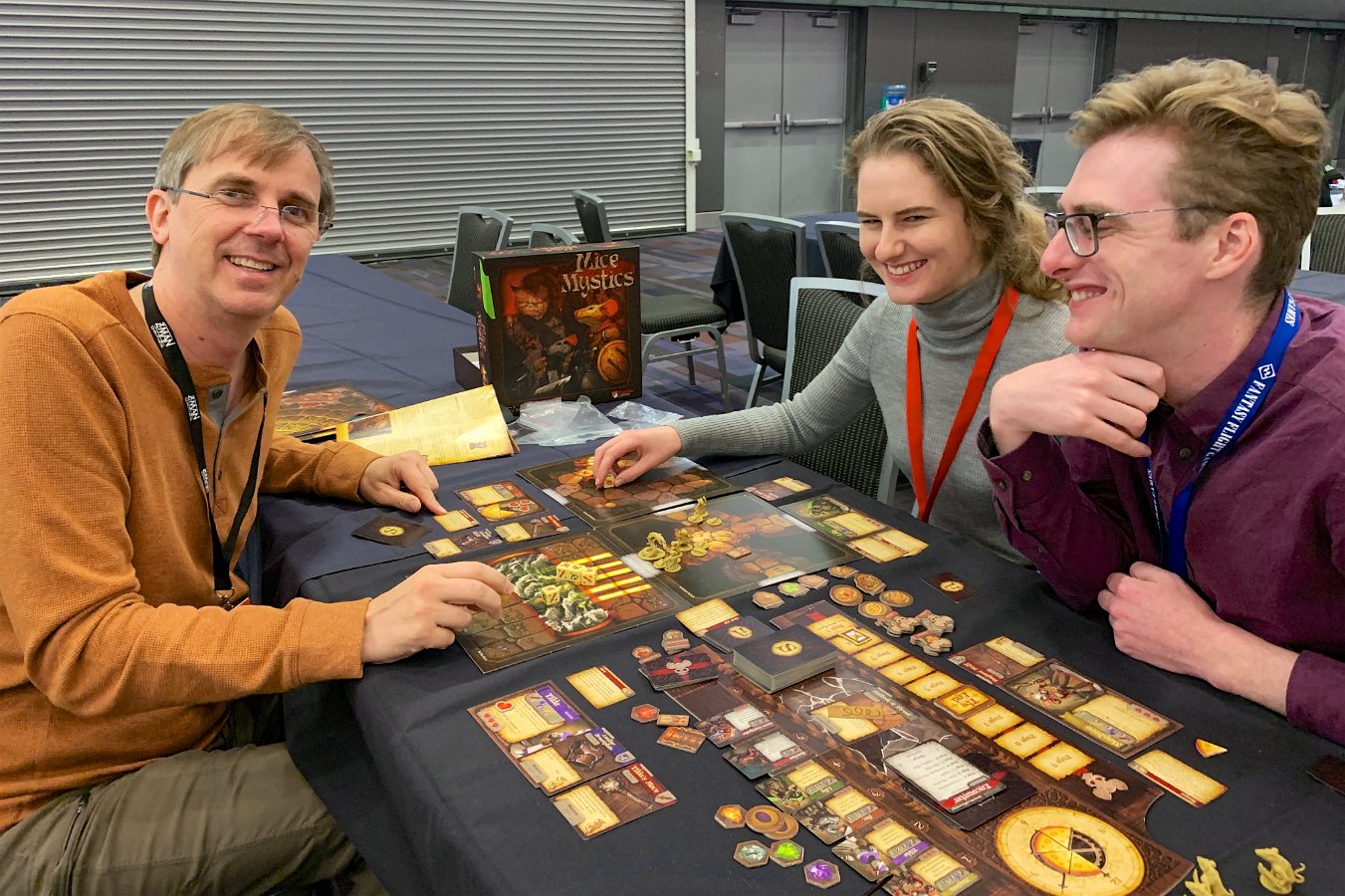 Darlene and I returned to Vancouver, British Columbia last week to enjoy three days of board gaming at Shut Up and Sit Down's third annual board gaming convention (SHUX '19) after enjoying ourselves so much last year at SHUX'18.  Once again we got to meet a bunch of new people (as well as bumped into a friend local to the Santa Cruz area) while learning and trying out many different games.  As always, there's also lots of other gaming-related stuff going on all around the convention hall but we pretty much stuck to the game library and play area for the whole convention this time.
We dove in deep starting with the viking-themed, "worker placement"-style game A Feast for Odin.  It's good but I'm not sure I really want to play it again, and it's also really time-consuming to teach to new players.  (Luckily we found someone who already knew the game to teach us.)  We moved on to try the tableau-building Valeria: Card Kingdoms (not great), before getting transformed into mice trying to battle and escape our rat guards in the story-based adventure game Mice and Mystics (very cute!).  Then we tried playing classic Disney villains in Disney's Villainous with just the two of us – and then tried it again when the first game ended rather abruptly.  I give it a pass – you're pretty much at the mercy of your card draw, with little decision making to do each turn.  The card decks do wonderfully capture the spirit of the feature films though.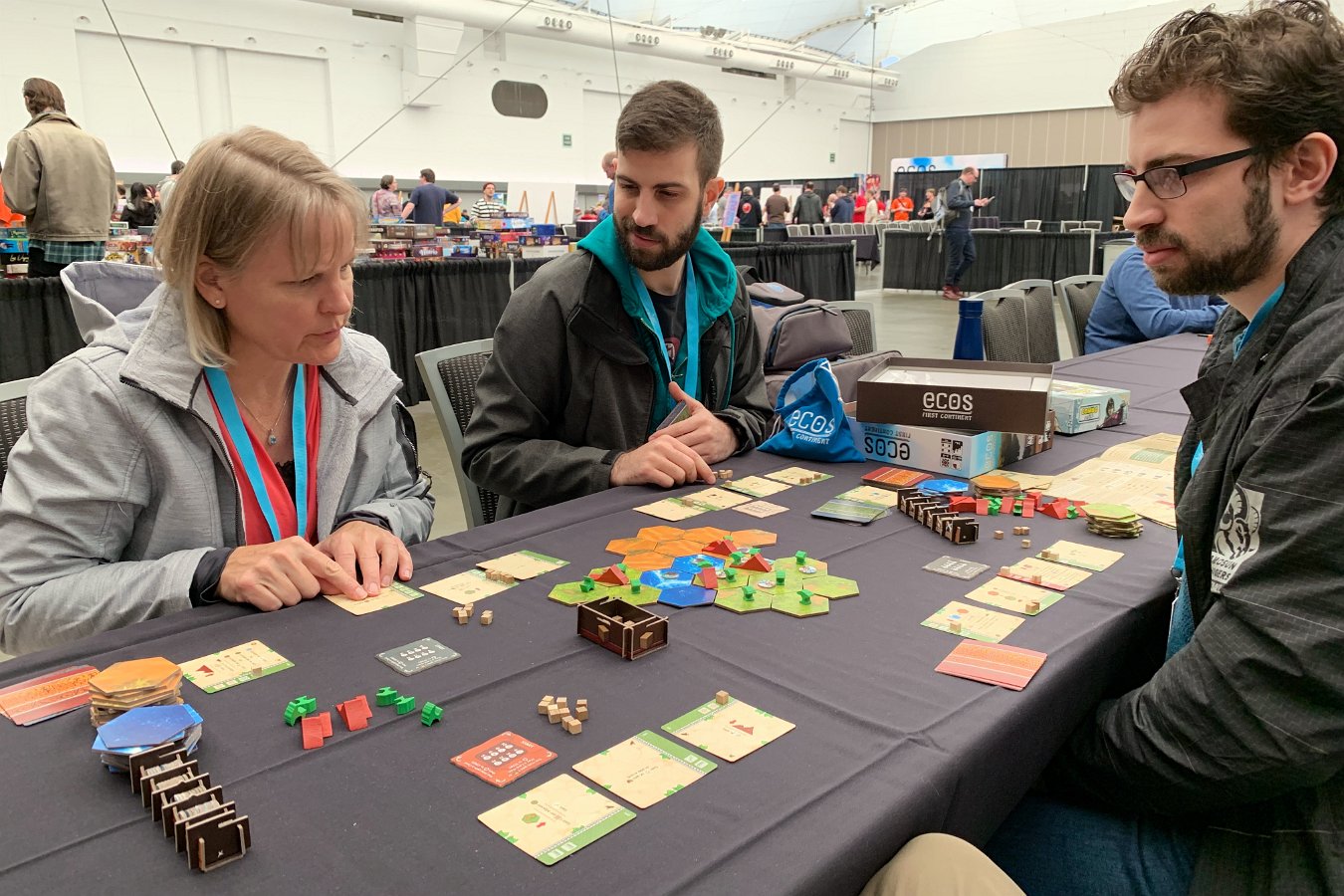 We both loved playing the soon-to-be-released Ecos: First Continent and I immediately put in a preorder for it.  Next up was trying Lowlands, a classic euro-style game with the added twist of having to decide whether to give up some of your precious turn actions to work on the community dike holding back the rising seas.  We liked it… but not as much as Istanbul that we tried later in the day.  I've had that in my wish list to try for a while and playing it with a group of five turned into an immediate purchase.
Richard joined us for the bizarrely themed and misrepresented Lords of Waterdeep after somebody we met earlier in the day insisted we try it.  It was okay, but it was really just a totally abstract cube-exchanging affair. However, from there we moved on to finding a group to try laying out a suburban neighborhood together in the puzzle-y "roll and write" game Welcome to… – and yes, the third purchase as a result of SHUX this year!
We joined up on the last day with another couple to figure out how to play the intriguing time travel-based cooperative mystery adventure game  T.I.M.E. Stories – which turned out to both not be so straight-forward without giving ourselves any story spoilers and reminded me why it got some less than stellar reviews.  The problem is that the game intentionally sets up the story to play out in such a way that you're going to run out of your allotted actions and fail multiple times and then "get" to experience going back in time again to try again with your new knowledge.  However, unlike a well-scripted time travel movie, it's not that fun to have to go back and repeat previous sections to gather needed equipment again.  We ended up cheating a bit on the second go-around only to be forced into a second failure anyway where we decided to quit without seeing the first story through to its end.
We didn't get to finish the last game of the weekend, The Ancient World, with yet another couple before the convention closed down.  This one started out rough and afterwards I discovered that there's a newer edition of the rules which would have avoided much of the confusion and outright invalid actions we were taking.  Maybe we'll try it again sometime somewhere.
Darlene had to take off super early Monday morning to teach a class by noon, but I hung out for the day in Vancouver and ended up going for a walk to Stanley Park and spending the afternoon at the Vancouver Aquarium.  Click through for the full gallery: