I've been waiting for a mid-size, long range, all wheel drive electric car ever since I got my first taste of EV's at Nissan's LEAF test drive event in 2010.  I was so taken by how it felt to drive electric that I ended up putting a reservation down for Tesla's still-under-development Model S soon after since Nissan was no longer taking reservations for the LEAF.  As it turns out, I ended up snagging a LEAF in 2011 before even getting to test drive the first Model S in 2012.  I decided to pass on the Model S (too big for my tastes) but eventually brought home "half a Tesla" in the form of Toyota and Tesla's joint RAV4 EV effort in 2013 – as did Darlene when I sold my old LEAF out from under her.
When Tesla finally revealed the prototype of the smaller Model 3 in early 2016 and opened up reservations, Darlene and I and Dave and 450,000 other "friends" all jumped on it – and began the long wait as Tesla started development.
Well, here they are – we both finally got ours this past weekend (and Dave got his a few weeks ago):
And, oh boy, are these amazing and fun to drive – over 300 miles range on a charge, access to Tesla Superchargers all across the country, over-the-air software updates, incredible "spaceship-like" interior design with lots of customization controls, among the safest vehicles on the road and blah blah blah… okay, yeah, yeah….
Anyway, here's the obligatory "Tesla launch" video: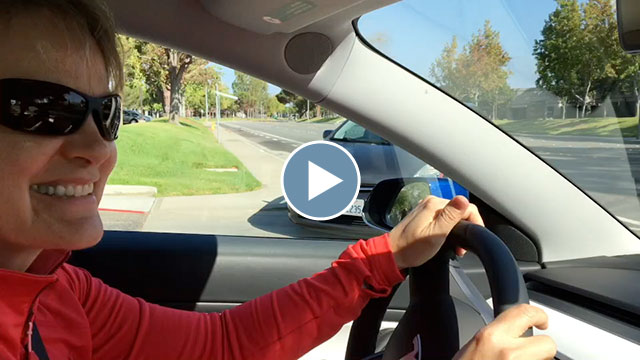 Custom "Stealth" Look
I decided to get some detailing work done to give mine a more custom look.  I had XPEL Stealth self-healing paint protection film applied over all the painted surfaces to give it a satin matte appearance, a speckled dark gray 3M vinyl wrap applied to cover all of the chrome exterior trim pieces as well as the gloss black interior console, a Ceramic Pro hydrophobic ceramic coating applied over the body, windows and wheel covers for easy cleaning, a mild tinting (Huper Optik) applied to the side windows to give a nice contrast between the body and the glass portion and the front and rear chrome badges painted black.  Elite Auto Films in San Jose did the work and while it did take a couple of weeks and several follow-up visits to finish everything up, it came out looking great.  The satin effect is fairly subtle, particularly in photographs, but it looks quite sharp in person!  Darlene also had Elite Auto Films do some paint correction work and had a Ceramic Pro coating on hers.
Click through for more pictures in the full gallery:
If you're interested in buying a Tesla, using someone's referral link will give you a discount (the amount varies over the years) and grants redeemable credits to the person who referred you.  Here's my Tesla referral link.