Darlene and I camped out on the east side of Pinnacles National Park this past Sunday to watch the Perseids meteor shower. We had some fairly dark skies as Pinnacles is in a somewhat remote location. The glow of lights from Hollister and Salinas (about 25-ish miles away) were apparent to the north but the Milky Way was still quite visible. And the crescent moon set nice and early. We spotted probably several meteors per minute.  There were a few clusters of four or five.
I made a little video of some time lapse images I captured during the night: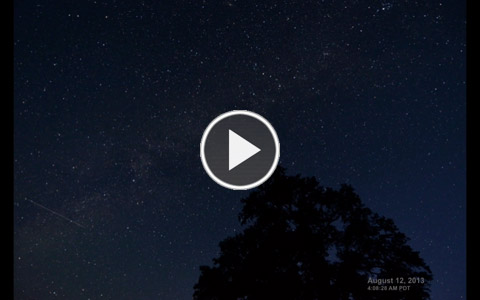 As it was a Sunday night, getting a campsite was easy – most of the sites were vacant — not so on a Friday or Saturday night!  There was lots of wildlife though… of the more natural variety.  We had multiple visits from human-habituated deer, rabbits and a coyote in our campsite.  (I don't count the yellow jackets!)  We went for a hike to see the nearby talus caves and saw a couple of bats but part of the caves were still closed to protect the bat colony.  (Talus caves are formed by rocks and boulders falling into a narrow area to form a ceiling and block out the sky.)  On Monday, we hiked the High Peaks loop and happened to run into an old coworker from FileMaker.  We also saw some turkey vultures and possibly some California condors.