Well, "almost summer" anyway: Iceland (and most of the North Atlantic) experienced the coldest summer in decades this year – this after one of the warmest and wettest summers ever last year.  So while we remained bundled up from the cold, wind and rain,  Darlene and I had a fantastic time.  It's a very beautiful place and full of so many places to see and experience that even with 19 days in Iceland we were still forced to skip so much.  Iceland is definitely a wonderful and easy place to visit.  The hardest part is having to pick what not to see (and trying to pronounce or even just copy down the Icelandic place names).  I tried to book lodging to give us multiple days to stay and explore in each area and we consciously left off whole large areas of the country but even so it wasn't enough: we still felt like we didn't have enough time in any given area.  Gotta go back!  And yes, I'd like to see it in winter too.
Click through here for my full gallery of pictures and videos from the trip.  Here are just a few highlights from our trip though:
Landmannalaugar
This is an incredibly colorful (and popular) mountain area to explore in the highlands.  Many will set out to do the two-to-four day Landmannalaugar backpacking route to Þórsmörk (I'd like to someday) but we just enjoyed a day of hiking some of the nearby trails through this colorful terrain, followed by dipping in the natural hot springs there.  This was also our first taste of the many rough, gravel roads (including river crossings) that are needed to access many parts of the country.
Skógafoss and the Fimmvörðuháls Trail
This is a gorgeous waterfall to begin with, particularly how it falls on to a flat plain, and even though Iceland is covered with incredible waterfalls, the trail that starts here covers the most fantastic series of waterfalls I've ever encountered.  It's not just the sheer number (as in dozens) of falls that you see along the trail, but the incredible heights, splendor, variety and ferocity of the various falls that tumble down this beautiful gorge that lead up to where the two glacial ice caps (Eyjafjallajökull and Mýrdalsjökull) meet at Fimmvörðuháls Pass.  Many people will hike this trail up and over the pass to Þórsmörk (or all the way to or from Landmannalaugar) but if nothing else, you've got to at least spend a day hiking as far as the bridge crossing (as we did).  While there's an overnight hut at the top of the pass, they say you can do the one-way hike to Þórsmörk in 10 hours or so but I don't see how it can be done so quickly if you try to take in all the incredible views along the way.
Askja (Vatnajökull National Park)
This was to be our deepest adventure into the highlands of Iceland. Askja is a large volcanic caldera (and crater lake) in the remote central highlands and part of the vast Vatnajökull National Park of volcanic formations, glaciers, lava fields, and the largest ice cap in Europe.  (Notably, this was the area that the Apollo space program used to train their astronauts in geology.)  This excursion was potentially going to be trouble for our little Subaru Outback due to some potentially deep river crossings. As it turned out, the cold weather played in our favor and the river in question was not running too strong (and the weather clear), so we were good to go on our own rather than needing to sign up with a tour operator and their monster trucks/busses. We camped out at the base of Herðubreið but, once again, there was much more to see here than we had allotted time for and I would love to come back and explore more of the area.
Lake Mývatn
This lake region is filled with tons of different geologic formations: geothermal areas, volcanic cones, lava formations, caves and lava tubes, etc.  The name Mývatn means ("the lake of midges") and oh boy, we can attest that there are a bajillion of them along the water.  I know we short-changed this popular area, having only a day left to hit up the some of the many sites before having to head on to Akureyri.  We did get to see the fissure and water-filled cave Grjótagjá, the tephra crater Hverfell, the lava formations of Dimmuborgir and walk around Höfði to see some of the lava pillars in the lake (and the aforementioned bajillion black flies).  Lots more to see, like the Lofthellir cave and its ice sculptures but it would be a half-day tour just for that.
Herring Era Museum (Siglufjörður)
This sounds ridiculous, but the Herring Era Museum in Siglufjörður (on the northern coast) is a really wonderful experience.  We almost blew it off.  I mean, come on, "Herring Era Museum"?  But it's really well done.  You get to explore several buildings from the "glory days" of Iceland's herring fisheries from the early 20th century, including the living and working quarters.  Every room is furnished and filled with personal belongings as well as tools and equipment as it would have been at the time – and not behind glass: most of it is just laying out open and unprotected.  It's deservedly won several museum awards.  It really feels like walking into the past.  You can pull out a suitcase from under a bunk bed and find it filled with clothing and mementos.  It's quite the experience!  There's another building housing a couple of fishing boats "docked" to a pier that's staged and lighted and feels more like you're on a movie set than in a museum.  And of course, you can climb aboard and explore below deck or on the bridge.
Snæfellsnes Peninsula
The centerpiece is the Snæfellsnes Peninsula is the glacier-capped, volcanic mountain of Snæfellsjökull and the peninsula is surrounded in fjords, more cool geologic features, and rugged mountains and coastline.  The hike between Arnarstapi to Hellnar was wonderful in particular (with a fantastic cafe at the turnaround in Hellnar…. oh, that skyr cake!!)  We also checked out the Vatnshellir lava tube, the Sönghellir "song cave", the impressive and intriguing cleft in the cliff Rauðfeldsgjá and made a driving tour of the northern coastal towns on the peninsula. We spied on a seal colony in twilight, tested our strength with the old fisherman's lifting stones and tried hiking up to the glacier itself but the road was still closed due to snow and the visibility too poor to go very far without a trail to follow.  After three nights at a guesthouse on the peninsula, there was still much we were unable to get to see or explore.
Langjökull and "Into the Glacier"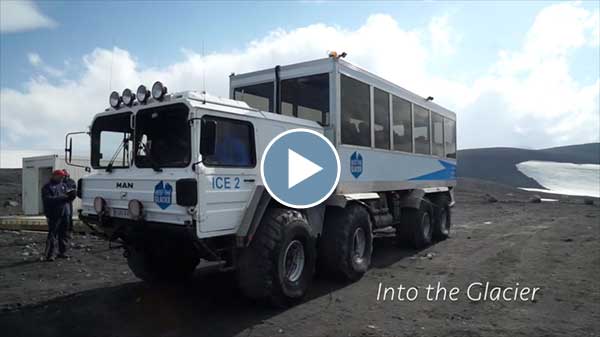 This is a new experience, opened in June of 2015, where they've dug out a series of lighted passages and chambers into the Langjökull glacier.  After being driven up and over the glacier by massive, converted missile carriers, you get to walk down into the man-made tunnel, into the glacier, inside the ice and even see fissures and ice formations from within the glacier.  Very cool!  When we were there, it had just rained heavily the night before and so water was still dripping and seeping through everywhere in the glacier.
Glymur Hike/Waterfall
This short little gem-of-a-hike is definitely worth a half-day to enjoy.  I'm very happy our host at Hotel Á recommended this to us on our final day as we would have missed it otherwise.  It was a great way to cap our trip.  Note that there's a choice of paths to follow up once you reach the river Botnsá.  I definitely recommend crossing the river and taking the eastern trail (or righthand side of the river).  I think it provides more revealing and thrilling views of the gorge, falls and the valley back to the fjord and car park.
And More to Experience…
A couple of other little surprises to mention are Petra's amazing stone collection in Stöðvarfjörður in the eastern fjords (and she was quite an interesting character) and the entertaining Settlement Centre presentation in Borgarnes of the Saga of Egil.
I was floored by how frequently and unexpectedly fantastic the meals were throughout the country, even in the smallest villages and most remote guesthouses.  Iceland clearly has a disproportionate share of fantastic cooks and chefs scattered around their country to treat their mostly European tourists.  It's like being treated to French cuisine in terms of the care and skill… but also in terms of cost: it's very easy to go US$60-$100 or more for two people.  There is of course cheaper fare in a smattering of fast food, roadside cafeterias but it's mostly not very appealing.  If trying to keep to a smaller budget, I definitely recommend buying groceries and cooking meals yourself.
I wish we could also have gone to the Museum of Icelandic Sorcery & Witchcraft in Strandagaldur or toured the western fjords or gone backpacking in the Hornstrandir, etc.  Like I said, much to see and experience in Iceland!
Click through here for my full gallery of pictures and videos from the trip.