We had the van loaded up and we had just headed out on our next extended road trip, this time up to Alberta and British Columbia for a few weeks – but we didn't even make it out of town before this happened:
We were off to a very late start and had numerous unhelpful things come up that morning – and Darlene was just realizing she had forgotten her phone (you can hear her calling it to locate it) – and then… the impact.  It was immediately clear that we weren't going anywhere now and there would be who knows how much hassle ahead to deal with whatever had just happened.
We were fine and the cats were fine. The kids who slammed into us didn't have their seat belts on though. One ended up slamming his teeth into steering wheel, the other had his head smashed into the windshield, bits of glass in his forehead and he was bleeding at the scene. We encouraged them to go to the hospital.
So yeah, a very abrupt end to our road trip. Can't open the cargo doors any more but we managed to squeeze the bikes and all of our gear out through the front opening under the bed to unload everything.  The van is now back up in Vancouver, WA at Van Haus Conversions where the original custom build was done.  All of the interior installation (cabinets, walls, insulation, wiring, plumbing, etc) needs to be removed before a body shop can tackle the exterior damage.  Then it will all need to be rebuilt again after the body work is completed. Plus the flooring will need to be replaced as it was buckled from intrusion by the cargo doors being crushed.
Very bummed. I can't help but think that if we'd left a minute earlier or later we would have missed this whole mess.  But then perhaps that young driver who somehow didn't see this big white van slow down in front of them would've run over that woman and her dog.  We'll never know.  But what's with that Volvo sitting at the green light the whole time, eh?
Click through for the full gallery of the damage: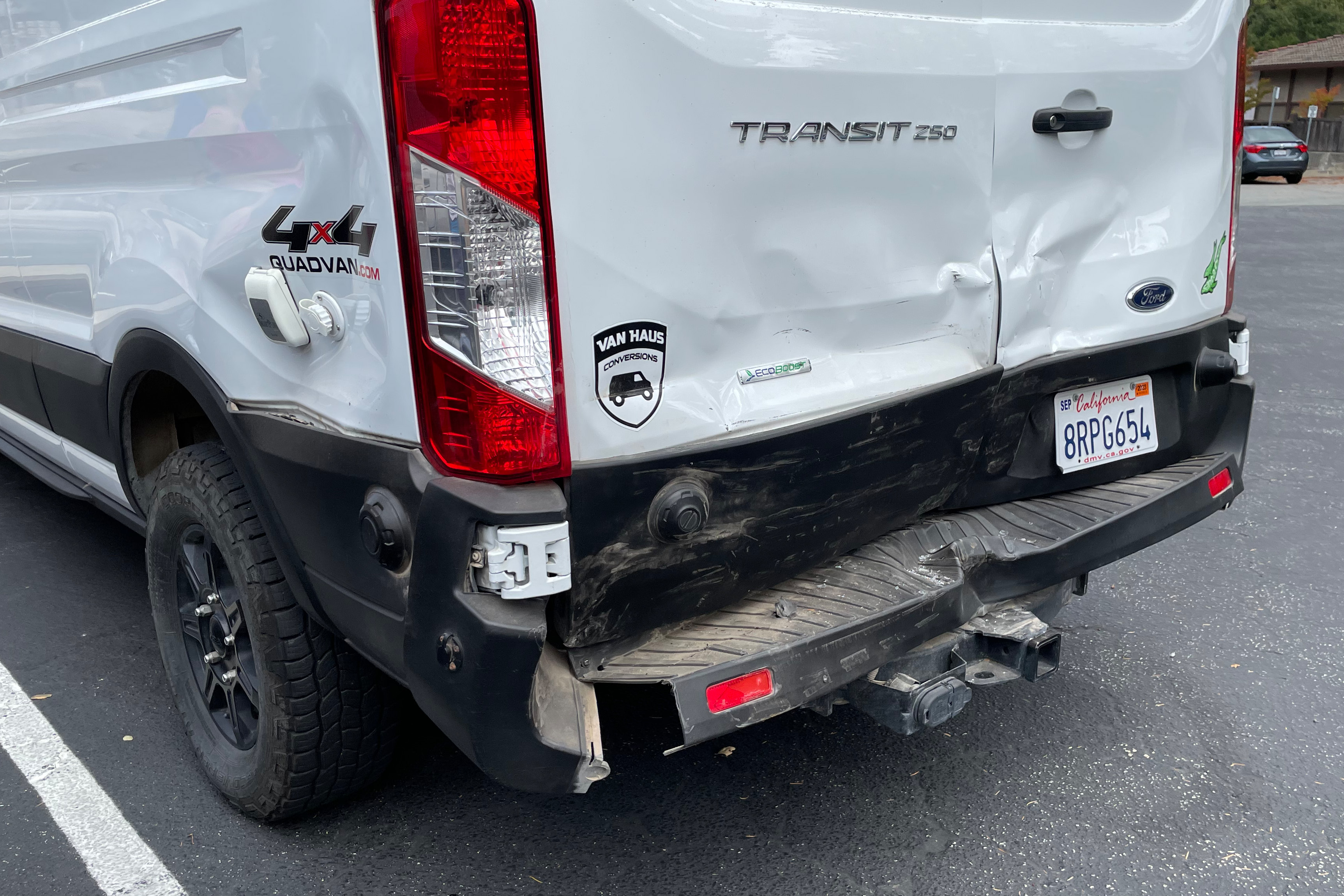 Update (end of March 2023): Six months later and the van is still at the body shop. It's been a long series of setbacks, delays and excuses (mostly from the body shop) and it's still doesn't even look close to ready to go back to my van builder, Van Haus, so that they can rebuild the interior.  Maybe I'll document all of that mess at some point, but in the meantime I've added a bunch of the blurry photos the body shop has sent me over the past few months to the gallery:
Update (early May 2023): The body shop finally finished and now the van goes off to Van Haus to have the interior rebuilt.
Update (mid-August 2023): The van rebuild is finally complete!  Almost an entire year lost – and we've only had it three years since it was originally completed in August of 2020.