Starting with the wonderfully imposing monolith from Return to Dark Tower: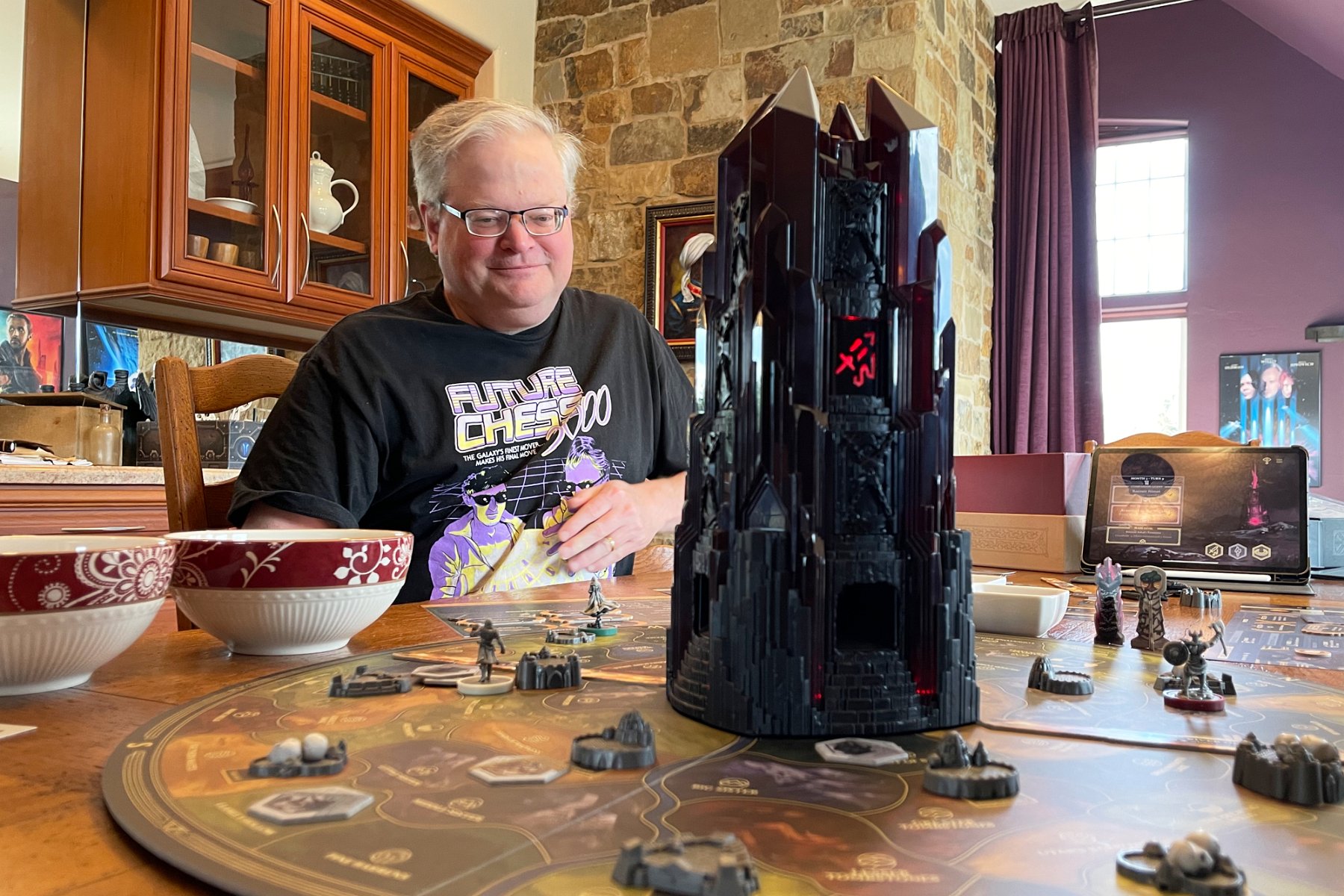 …and continuing with clan conflict in Inis, a jungle race in The Quest for El Dorado, city planning in Suburbia, back-stabbing cooperation in Cutthroat Caverns, murderous philosophy in Trial by Trolley, breeding pea plants in Genotype, holding back the inevitable dike failure in Lowlands, interstellar warfare in Cosmic Encounter, rail building in Iberian Gauge and feeding your friends to sharks and sea monsters in Survive: Escape from Atlantis!
More gaming in early February at the Tahoe house: Gamers Gone Skiing.
March update: Surviving an alien infestation in Nemesis, wheeling and dealing in Chinatown real estate, running around an Istanbul market, building power plants in Power Grid, working the financial markets in Speculation, evolving your sea creatures in Oceans, getting your pirates out in Cartagena, reaching the dramatic end to our months-long campaign in the The King's Dilemma, arranging a group photo in Picture Perfect, betting and cheating on horses in Long Shot: The Dice Game, surviving in the paleolithic in Paleo, fighting foes in Return to Dark Tower, pulling off a difficult heist in Burgle Bros and racing crazed camels in Camel Up.
Also lots of game sessions without pictures: horse racing bets and cheats in Long Shot: The Dice Game, maneuvering a Parade of Alice in Wonderland characters, deducing the murderer and motive in Deception: Murder in Hong Kong, serving up beer in Taverns of Tiefenthal, shooting it out with Finger Guns at High Noon, more clan conflict in Inis, and a bunch of sessions with The Crew: The Quest for Planet Nine and The Crew: Mission Deep Sea.
Click through for the full gallery: