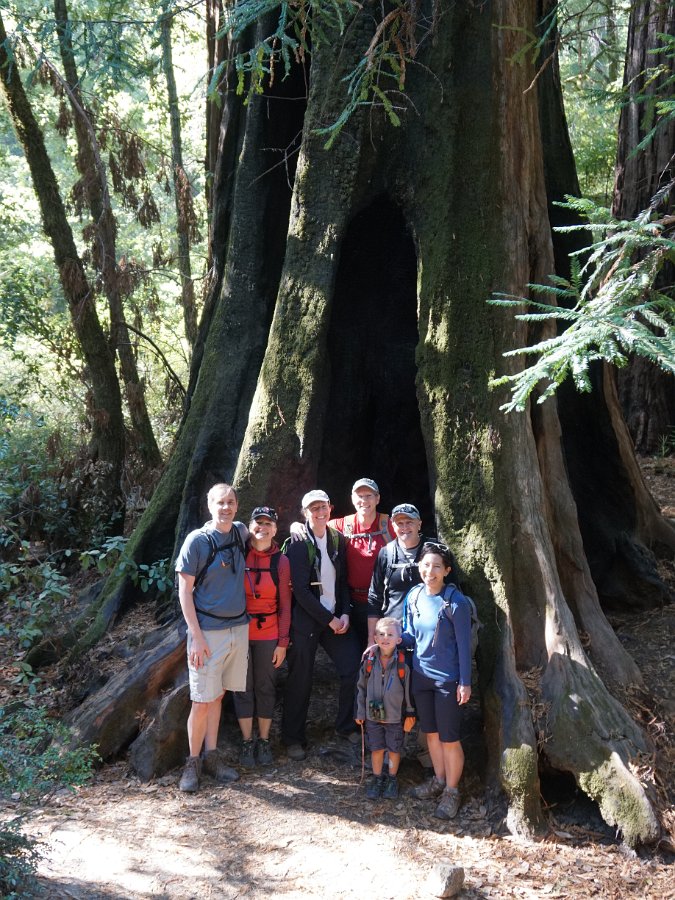 Darlene and I joined Resi, Troy & Aiden and Greg, Erin & Merritt for another camping weekend, this time in Big Basin Redwoods State Park in the Santa Cruz Mountains.
Besides some hiking among lots of giant redwood trees, we got in a couple of games, Decrypto and Quacks of Quedlinburg, and we got to experience the spooky, night time reenactment of Big Basin's last lumber mill owner's fateful encounter with a grizzily bear and the subsequent haunting of his missing arm!
The weekend ended with a true scare though.  This was another weekend of hot and dry winds, setting off wildfires despite PG&E's efforts to shutdown large portions of the electric grid across many California counties.  Just a minute or two before we were to drive out of our campsites, several redwood tree branches gave way and came tumbling down just in front of our vehicles in the roadway.
Before that dust had settled, I heard another large crack directly overhead as I was still standing in our campsite, just outside the RV, about to climb aboard.  I ran off towards our adjoining campsite where everyone had just got into their cars and spun around to see a large 20-foot long limb, maybe 8 inches in diameter, come crashing down onto the back of the RV, right where I had been standing – and where we had been hanging out in our camp chairs much of the weekend.  Darlene was inside the RV and was startled into a scream at the sound of the crash and rushed out to see what had become of me.

Everyone piled out of their cars to quickly clear the roadway so we could make an immediate departure and get the heck out of there.  Later I was able to pull off the road in a clearing and survey the damage: the edge of the roof was busted open, exposing some wiring, the awning was crushed and bent and partially torn from its mount and a couple of solar panels were damaged.
So, both lucky that no one was hurt and that it didn't come down while everyone was sitting around camp or in their tents and unlucky that we didn't leave just a minute or two earlier and avoid the whole mishap.