I saw this news article in the Santa Cruz Sentinel this morning talking about how active the humpback whales have been near shore off of Santa Cruz and Aptos these past few weeks.  So Darlene and I grabbed the drone and dashed down to Seacliff State Beach.  I've been wanting to try flying the drone to get nice, aerial views of the whales.  (A lot of the coastline is protected via the Monterey Bay Marine Sanctuary but flying in this area is allowed.)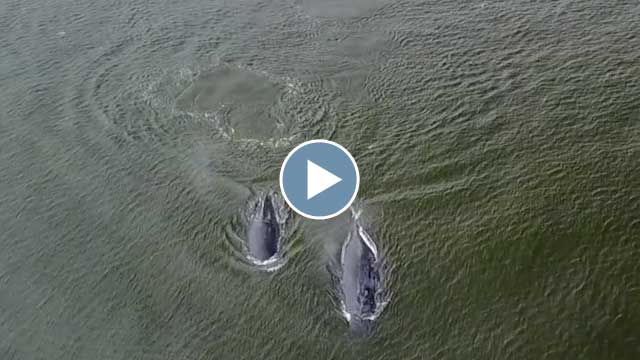 There were probably a dozen of them near shore – you could see them popping up every which way!  The lighting wasn't great (completely overcast) as the marine layer had yet to burn off but it was still very fun to hang around with the drone waiting for them to appear.
It's quite the challenge to find them and stay with them using the narrow view of the drone's camera – even when you can easily see them from shore.  Darlene was helping by watching the feed with the goggles because it's also hard to see small/distant details on the iPhone or iPad screen, particularly when you're outside. It's much easier to see with the goggles but then of course all you can see is what the drone sees.
It was hard tracking them too because once they go under it's hard to predict where to be looking when they come back up. You want to get closer for more detail but if you're too close you won't see them at all when they resurface off camera (which happened repeatedly) – and of course not so close as to harass them.  I should point out that the limited view angle of the drone's camera makes them appear closer than they really are and yet I still had to heavily crop every one of these clips to make the whales appear large enough in the frame – even in the most distant shots.
I did put a polarizer on the drone camera to try to cut through the reflection of the water surface but it didn't work that well with the diffuse overcast light so it might work better in directed sunlight.
Need more practice! ;-)