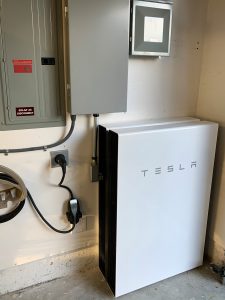 My two Tesla Powerwall 2's were installed last week and now I'm running on my own solar-generated power after dark!
You see, Powerwalls not only keep the lights on when the power goes out but they also let you automatically time shift energy daily to avoid using power from the grid at peak demand times – not something you get from a traditional backup generator.  Plus they don't need any maintenance or fuel.
And yes, this does mean that now I will still have power for the whole house and, most importantly, running water the next time PG&E needs to shut down the power grid for fire safety.  Yay!
Avoiding Peak Demand Usage
It used to be that daily peak energy demand occurred through the mid to late afternoons but with the widespread adoption and installation of solar photovoltaic panels, that afternoon demand has evaporated and the peak demand now comes in the evenings.  As a result, power companies have been adjusting their rate schedules to reflect that, with the highest cost of energy running well after dark to 8 and 9 pm.
With battery storage, you not only get backup power for the whole house in the case of outages, but you can also automatically store energy generated during low demand periods of the day (including from your own solar panels) and automatically use that stored energy during the later peak hours, even after the sun goes down.  This means that your existing solar PV system ends up being even more effective and cost-efficient.
Time-shifting energy usage with battery storage works so well that Tesla and other companies have been actively deploying massive, utility level battery storage systems around the world, in place of traditional, expensive peaker plants. (Peaker plants are power plants whose primary purpose is to cover periods of high demand.)
Powerwall Configuration Options
I really like the Tesla app for configuring and monitoring your Powerwall and, if present, your solar PV system.  It continually displays the flow of power between your home, Powerwalls, solar panels and the power grid – in real time.
You can specify to keep the system in a "backup only" mode (keeping the batteries fully charged at all times), in a "self-powered" mode (where it stores any excess solar generated and uses it to power the home as much as possible each day), or in one of two time-based control modes where it forecasts your future energy usage and time-shifts your energy use and solar production to fit the peak, off-peak and shoulder periods of your particular electricity rate schedule.  And all of these modes operate under a "storm watch" feature that will automatically override the normal behavior of the Powerwall to prepare for forecasted storms or other events that may result in an outage.  All very cool!
I tried running in the "balanced" time-based mode for most of March but then switched to "self-powered" mode because, during the non-summer months (October – April), there is no peak rate and the difference between partial-peak and non-peak is only a couple of cents.  In "balanced" mode, the system would make a point of exporting any excess solar generation during the partial-peak period for credit rather than continuing to charge the Powerwalls.  This would mean it would be more likely to need grid power overnight.  Now in "self-powered" mode, the Powerwalls are charged more and usually able to handle the entire house load overnight – depending on the weather (solar production and house heating need).
Update (June 2020): Well, it's not even summer yet and the Powerwalls are already letting the house run completely self-powered most days.  And by "house" I mean everything (central heating, water heater, cooktop/oven, washer/dryer, well & pressure pumps, septic system pumps) plus the cars (we're both driving electric).  There were a couple of days that were a bit stormy and cold enough to want to heat the house and a couple days of heavier charging of one of the cars, but every other day required no power from the grid (day or night) – and yet the system still exported plenty of excess solar generation by the end of the day.  Having a couple of Powerwalls really does sort of double how much you get out of your existing solar panels.  (I've got a 9 kW solar system.)
During the summer months, when there's a daily period of much higher peak pricing, I expected to make use of the time-based "balanced" mode to optimize how much credit I get for excess solar generation.  As it turns out, in the "balanced" mode the Powerwalls will switch to exporting solar power during the peak period even if the batteries aren't yet full.  So I switched back to "self-powered" mode to let the batteries fully charge each day to be sure to have plenty for overnight usage.  They tend to fill up by early afternoon on sunny days and plenty of excess solar power gets exported at the peak rates anyway.  This excess solar generation during the spring to autumn months will still make up for the power I need from the grid over the winter when the house uses much more energy for heating.  (My panels were installed to optimize for summer peak rates – 75% of them are oriented to the west for summer afternoons.  Now that I have the Powerwalls, I almost wish I had optimized them more for the winter sun.)
If you're interested in buying a Powerwall, using someone's referral link will gain you (and the person who referred you) a small rebate.  Here's my Tesla referral link.
Installation Issues
My installation by Tesla wasn't without issues. Continue reading »