Mark and Eve came up to the Tahoe house ahead of the extended Labor Day weekend, joined by their friends Matt & Lindsay for some excellent Tahoe area mountain biking.  Mike and Nanci then joined us on Sunday.
Here's the video montage I put together for all four days of riding: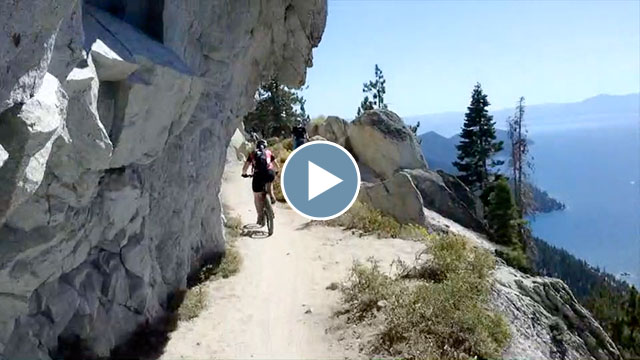 On Thursday, Mark, Eve, Matt, Darlene and I hit up the Incline Flume trail starting from highway 431.  We continued with an out-and-back on the classic Marlette Flume trail before Eve and Darlene opted to take Tunnel Creek Road down to lake level and the rest of us climbed the Incline Flume trail back to the cars.
On Friday, Darlene opted out and Lindsay joined us for a one-way ride from Watson Lake (above Tahoe City) on the newly completed Big Chief trail down to Sawtooth Ridge, outside of Truckee.  The upper section of Big Chief is rated expert/"black diamond" and is filled with lots of big drops – much more than what I'm comfortable with but the lower, intermediate section was fun and includes a long flow trail section too.  We finished up with Matt and Mark taking the west ridge, rocky portion of the Sawtooth Loop while Eve, Lindsay and I took the fast, flowy eastern side of the loop.
Matt left on Saturday, but the rest of us ended up trying a loop climbing up and around Incline Lake from the Incline Flume trailhead.  This was a mixed bag of very steep unrideable portions of trail to get up there but with some fun singletrack once we did.  Might be better to take the Old Mt. Rose Highway dirt road to get up there.  (Mike has a suggestion for another route that he uses that we'll try sometime.)  For our return, Mark took the Tyrolean Downhill trail while he sent us to try a new trail through some recently logged terrain.
On Sunday, Mike and Nanci joined me and Darlene on part of the Emigrant Trail between highway 89 and Stampede Reservoir.  This trail turned out to be a lot of flowy fun through varying scenery with some nice long ascents that turned into great descents on the return.  Unfortunately, Nanci wasn't feeling well and so she and Darlene bailed out early.  We'll be trying this one again soon though!