England
Tower Bridge, The Thames, Big Ben - London, England (April 1996)
Yes, yes, cliché images I know. But hey, the Tower Bridge is pretty nifty all the same.
Dumb thing is that I started to type "London Bridge" when labeling it. Doh!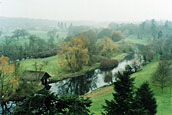 Warwick Castle grounds - Warwickshire, England (April 1996)
This is looking northwest from the castle walls over some of the grounds on which some rather prominent historic figures wandered.
This is a great castle to visit. True, it's been fully restored and turned into a tourist attraction complete with wax figures,
costumed actors, and an audio tour guide but it has been done terribly well. So, where is the castle?

Some expressive faces on the buildings of Oxford University... in Oxford, of course.